Hello, my name is Derek, and I run

an independent driving school providing quality driving tuition in and around Milton Keynes. When you begin your lessons, you will receive a Welcome Pack containing, (amongst other things) some Handouts. Which ones will depend on your level of experience. The full set cover all aspects of driving, and compliment the in-car training.
When studied in conjunction with your driving lessons, they will help to accelerate your learning. These will be added to as you progress through the syllabus.
If you require any help with theory and/or Hazard Perception training, I offer a combination of computer training, and mock theory papers.
BEFORE YOU DRIVE
You must be in possession of a provisional driving license.
Make sure any vehicle you drive is roadworthy and properly taxed and insured
Be able to read an old-style number plate from 20.5 metres, or a new-style number plate from 20 metres.
HOW MANY LESSONS?
Pupils quite often ask "How many lessons will I need to pass my test?"
This can vary a lot, some people pass after just ten hours, but I have heard about someone who took five years to pass. The best advice I can give is that the DSA (Driving Standards Agency), the people who set and carry out the practical driving tests, say the learner who has 45 hours of professional training, with 22 hours of private practice, stands the best chance of passing first time.
Most people will need a minimum of 30 hours of professional tuition, some will need less, but most will need more. Everyone learns at different rates, I will tailor lessons to suit your personal needs and level of ability, but to get the best value for money, I recommend you have at least two lessons a week.
The more regularly you have lessons, the quicker you will learn, so try to make sure you will be able to afford a full course before you start, to give you uninterrupted lessons from your first lesson, right up to your test.
It is also a good idea to buy some books and/or CD ROMs to start studying for the Theory & Hazard Perception Tests. I recommend that you invest in "The Highway Code" and "Driving The Essential Skills". There are various CD ROMs available from many major stores (PC World, WH Smith, Staples etc)
The car I am currently using.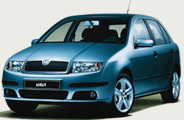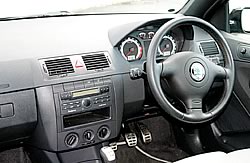 A Skoda Fabia 1.4 TDI, based on the VW Polo, but better.